KLB REAL
provides legal services in the area of real estate and corporate law
We provide legal services in the area of real estate and corporate law. We especially handle all real estate transactions and resolve all legal disputes regarding real estate and corporate issues.
We provide high-quality and cost-effective legal services with the primary emphasis on our client's specific needs.
Real estate
Corporate law
About us
KLB REAL FOCUSES ON LEGAL SERVICES IN THE AREA OF REAL ESTATE AND CORPORATE LAW.
WE HANDLE AND RESOLVE: 
purchase agreements

donation agreements

defects in real property

disputes between partners

conveyance of assets from the company

representation at general meetings

real estate and corporate financing
TO WHOM WE PROVIDE SERVICES:
Our clients are individuals as well as middle and larger companies. We offer all clients tailor-made solutions to ensure that they receive the required services in a manner that suits them best from both financial and professional point of view.
Sale and purchase of real estate
The sale and purchase of real estate involves significant risks and requires experienced advisors able to pinpoint the high-risk areas and prepare appropriate solutions. Our lawyers provide the following services:
drafting and negotiations of sale and purchase agreements

legal opinions and analyses

due diligence

advice on the process of financing

arranging escrow
Commercial leases
We represent tenants, landlords and property managers in all types of leases, including retail and office leases, leases of business centres, leases of industrial and warehouse premises, medical facilities and land plots.
Our services include:
drafting and negotiations of lease and sub-lease agreements

assistance with due diligence and analyses of the leased real estate

preparation of form leases and amendment of form leasings

preparation of letters and requests to tenants

advice in relation to real estate evictions
Real estate development
Our services regarding new real estate developments, modernizations or reconstructions include:
negotiations of documents

amendments and enforcement of agreements with developers and contractors

drafting of agreements between owners, architects, civil engineers, general contractors and sub-contractors
Real estate financing
We represent debtors and creditors in a variety of negotiations in the area of financing, including real estate acquisition loans, building and construction loans, takeovers and permanent financing, and back-to-back loans of the sellers.
Our services include:
negotiations and drafting of loan documentation

preparation of bills of exchange, guaranty agreements, security agreements, guarantees, security for leasing

reviews and analyses of ownership rights and acquisition titles

representation of clients in obtaining, restructuring and amending loans
Real estate management
We represent the owners and management companies in the operation and administration of real estate.
Our services include:
negotiations and drafting of administration agreements

interpretation and enforcement of lease agreements

representation in disputes over the maintenance of common areas
Easements and other encumbrances
We represent land owners and other interested parties in granting and restricting rights to real estate.
Our services include:
preparation and drafting of agreements

creation of easements

drafting agreements between co-owners and neighbours
Real estate lease and leasing
We represent landlords and developers, as well as tenants, in all areas of law applicable to landlords and tenants.
We provide our clients with the following services:
eviction of tenants

resolution of disputes over breach of provisions on payment of rent

acting in disputes over administration and maintenance of real estate

representation in disputes over security deposit refunds
Dispute resolution, litigation, mediation, arbitration
We represent our clients in the following disputes:
failures to pay rent

​​failures to perform obligations

executions

evictions

construction defects

disputes over brokers' commissions

breach of obligation of the trustee

actions for damages

actions for damages related to ownership title

administrative proceedings
We are experienced real estate lawyers who handle mediations, arbitrations and litigations as required.
Sale and purchase of companies
We guide our clients through the process of sale and purchase of businesses, whether they wish to sell the whole company or just some of its divisions, assets, shares or units, or whether they intend to merge with or acquire another entity.
Our services include:
due diligence
drafting and structuring of purchase agreements
participation in negotiations
representation in disputes
Disputes between partners, shareholders, competitors
Business co-ownership often entails a high risk of various legal disputes.
Business disputes include not only disputes between businesses, but also internal disputes between partners, shareholders or other parties within the company. Unless they are timely and properly resolved, these disputes may become extremely costly and even lead to an end of the business.
Our lawyers resolve external and internal business disputes, including the following:
disputes between partners and shareholders

unfair business practices

business frauds / embezzlements

court dissolution of business entities

disputes with the management

breach of obligation of the trustee
Corporate structure
The structure of a real estate and business transaction is essential to ensure the satisfaction of the expectations and interests of all parties involved, from developers to investors in shares or owners.
We offer a wide range of services in this area:
assistance in structuring of developer and investor entities

drafting of business plans
We have extensive experience with a great range of options available when choosing the relevant entity, including joint ventures, limited partnership companies, limited liability companies and other corporations. Each of these entities has many options to manage various financial, operational and tax objectives. These options need to be carefully considered in order to prevent future disputes.
Mgr. Petr Budzinski
Petr is an experienced lawyer with 20 years of professional expertise, an insolvency trustee, and a founding partner of KLB Legal. Petr specializes in individual consultations to clients with the aim to find the best solution for any specific issue.
Mgr. et Mgr. Alena Škrábková
Alena specializes in transactional legal matters, and has more than 12 years of experience with legal advice to small business owners as well as large corporations in the field of real estate and commercial and corporate transactions. During her practice, she has prepared and performed hundreds of real estate transactions. 
Aleš Hradečný
Aleš has worked on real estate projects in our firm for more than 3 years. During that time, he has carried out hundreds of simple and more complex transactions and his work has always been thorough and accented legal clarity of the matter at hand.
We form a part of KLB Legal
The law firm KLB Legal was established in 2012 by the attorneys-at-law David Kuboň, Vojtěch Láska and Petr Budzinski. David and Vojtěch had many years of practice in international law firms and leading Czech investment banks. Petr was a top litigation lawyer with experience in real estate market and crisis management.
KLB Legal is a member of the international organisations Global Justice Network and League of Lawyers. We cooperate with law firms in many countries in Europe, Asia and USA, and we have hands-on experience with complex cross-border transactions.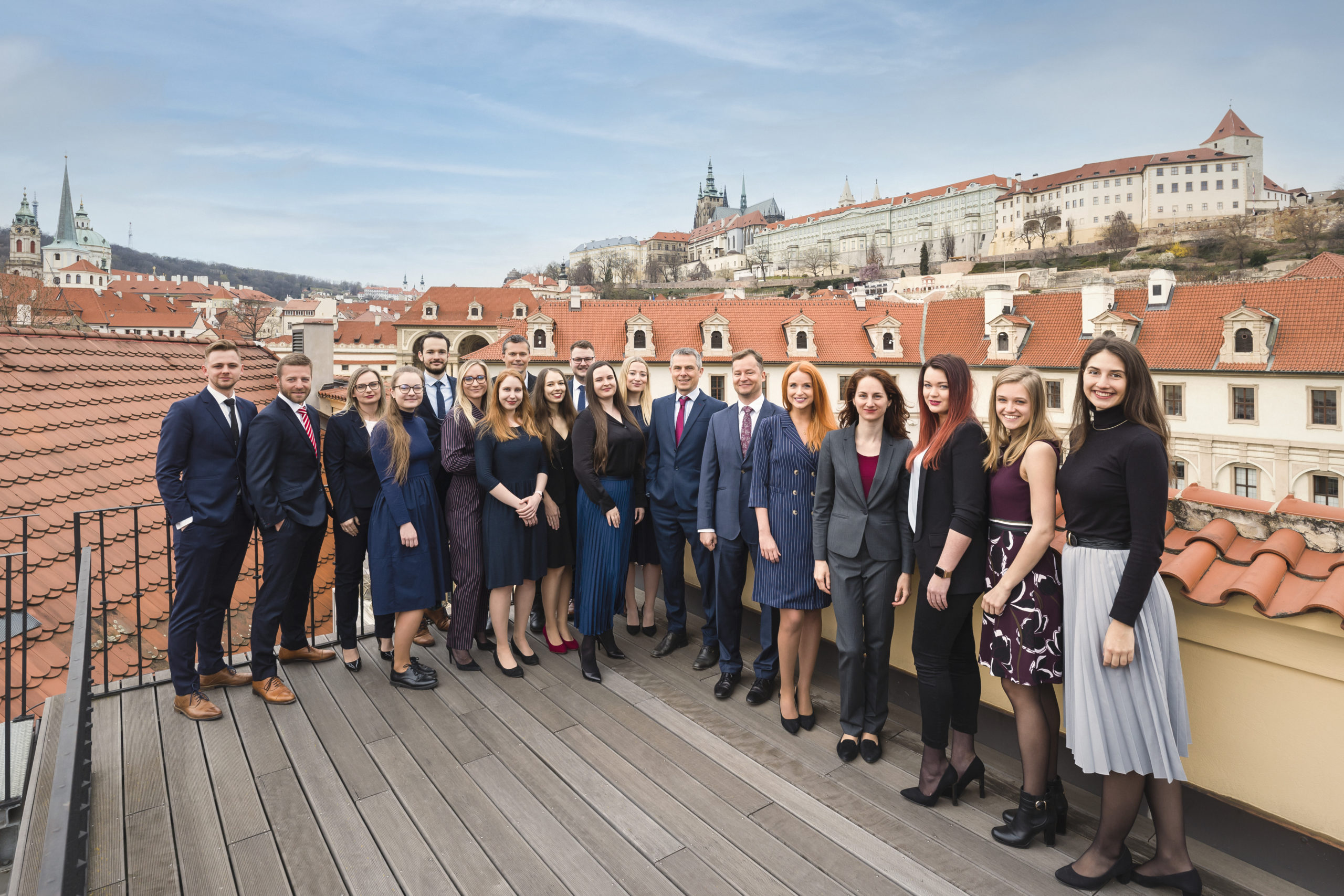 Some of our reference cases
Representation of the purchaser – administrative and manufacturing compound in Prague 9 – purchase price of CZK 215,000,000
Consultation on the purchase of the historic monument of Vila Brno, and subsequent reconstruction of the building
Arranging for the purchase of land plots adjacent to the castle – Mladá Boleslav
Purchase of an administrative building in Prague 2 – real estate value of CZK 120,000,000
Consultation on the placement of advertising equipment on a building in Prague
Sale and subsequent division and clearance sale of a manufacturing compound in Šumperk
Legal advice on the purchase of land plots in Prague 9 in the value of CZK 90,000,000 and the subsequent lease of the land plots
Advice on the purchase of administrative building in Prague 4 – purchase price of CZK 164,000,000
More than 50 drafted purchase agreements and donation agreements, including creation of easements for persons other than entrepreneurs, in 2022
Sale of a castle in the district of Tábor
Consultation on the purchase and reconstruction of a building in Prague – Vinohrady
Purchase of an administrative building in Prague 5
Sale of real estate in bankruptcy or execution proceedings, the total value of the real estate as at 2022 exceeded CZK 2 billion
Purchases of individual residential units in Prague – západ, Prague 1, Prague 4 and Prague 5 for both business and other purposes
Eviction of non-residential premises in Prague – Olšany
Sale of the right of superficies in Ostrava
Consultations on the purchase of receivables secured by real estate, and their subsequent sale – the whole of the Czech Republic, the volume of the assessed receivables exceeded CZK 10 billion
Review of subject-matters of general meetings, calculation of options for distribution of dividends
Participation and representation of shareholders at general meetings of regulated entities, preparation of documents
Representation before courts in disputes between members, shareholders and company management, and actions for damages caused to the company, in the total value of CZK 300 million
Representation of shareholders in squeeze-outs by majority shareholder, e.g. O2, CETIN, Unipetrol and others
Negotiating agreement between shareholders of a major car manufacturer
Preparation of shareholder agreements for development projects in Prague
Liquidation of companies – more than 150 successfully completed liquidations as at 2022
Preparation of the reorganization plan of a paper manufacturer
Representation in bankruptcy proceedings prior to the filing of petition for bankruptcy, and representation of creditors in the course of the bankruptcy proceedings
Due diligence of cooperative savings banks
Assessment of investment in a start-up company – sale of medicines
Assessment of investment in a company regulated by the Czech National Bank – provision of consumer loans
How much will our services cost you?
Before we provide you with any legal services, we will explain what we can do for you and in what time horizon, and we will always tell you the rates for our legal services, including the agreement on maximum reward, if applicable, and the manner in which you will be informed about the provided legal services and the statement of costs.